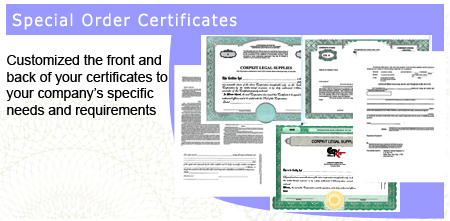 Our Custom Stock Certificates, Blank Stock Certificates and Standard Wording Stock Certificates are printed on high quality Certificate Bond with "Big Board" appearance.
Genuine CorpKit Legal Supplies Certificates are Manufacturer Direct and are Shipped Same Day.
Certificates are available for Corporation, Non-Profit Corporation, Not-For-Profit Corporation, Professional Corporation, Association, Limited Liability Companies, Limited Companies, General Partnership and Limited Partnership.
Special order certificates include special wording, you can give us a sample or tell us the wording you want. We will provide a printed specimen for you to prove before we print your certificates. Set up charging in printing fee may vary.
Our certificates are printed on high quality paper 24 lb thickness with the watermark.