CorpKit Legal Supplies :: Do-It-Yourself Products :: Minute Book Binder Only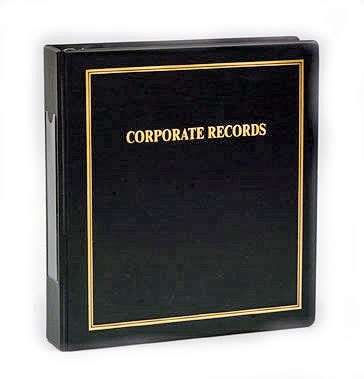 Do-it-Yourself Minute Book Binders from CorpKit Legal Supplies

Choose from the ThriftKit, VP Kit, Excalibur or the King Kit Minute Book Binders. All four choices allow you to have the flexibility of a Totally "off the shelf" Binder while giving you a variety of styles to choose from. A handy label holder on the spine allows you to customize the Minute Book Binder.





Don't forget to purchase Gold Label Paper to customize your binder.







*We also have an extensive selection of Index Tabs to help you further customize your binder. Tabs for Corporation, Parntership & Limited Liability





Minute Book Binder Only
---

See details
ThriftKit Minute Book Binder
SKU: B-T

The ThriftKit Binder includes a sturdy Black or Burgundy Vinyl 3 "D" Ring Binder detailed in gold.


---

Market price: $10.95
From: $8.95, save 18%


Note: you must order at least 2 Items

See details
VP Minute Book Binder
SKU: B-VP

Heavy Duty Minute Book Binder bound in Red or Black Levant Imitation Leather, with "Corporate Records" , "Minutes" or "Company Records" embossed in Gold on the front cover. A handy label holder on the spine allows you to customize the binde...


---

From: $23.50


Note: you must order at least 2 Items

See details
King Kit Minute Book Binder
SKU: B-K

Majestic in stature, yet practical in performance. This Black and Burgundy rugged durable Minute Book Binder is designed to last a lifetime with it's extra heavy covers, round spine and triple post binding.


---

From: $57.00


Note: you must order at least 2 Items

See details
Gold Label Paper
SKU: GLP

Full 8 1/2 by 11 sheets of gold paper can be used to customize your binders in house. Sold in quantities of 2, 4, 8, and 24. These sheets allow you to imprint the company name on the sheet of paper and insert a label into the label holder on the spine of the binder.


---

Market price: $1.75
From: $1.08, save 38%


Note: you must order at least 2 Items