CorpKit Legal Supplies :: Corporate Kits
Corporate Kits for Single Class Corporations
Corporate kits and incorporation supplies are manufactured with the highest standards and are designed for a fast and easy corporate kit set-up. Take advantage of our many years of experience by ordering one of our stylish yet economical corporate kits. Choose from Fifteen different corporate kit outfits.

Corporate Kits Gallery...





ThriftKit Corporate Kit - Our most popular Kit. This Corporate Kit has a Vinyl 3 "D" locking ring Minute Book Binder

with Matching Slipcase contains handy label holder on the spine contains a gold leaf insert with the Incorporation Name imprinted on it.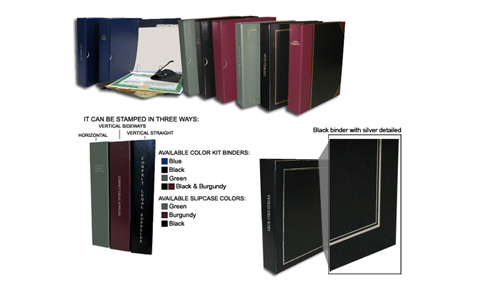 CorpKit Corporate Kit - with our New Improved Inside Pocket. New Color! Now available two tone Burgundy and Green.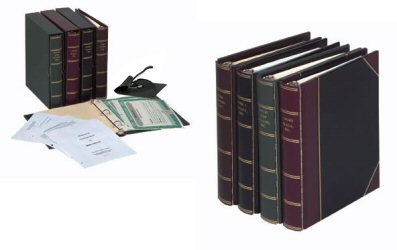 The Royal Corporate Kit - The Corporate Kit with Metal

hinges for extra durability. this Rugged, Extra Strength

Binder with Durable Metal Hinges, which will last a lifetime. The

Name of the Entity is Hand Embossed in gold on a rounded spine.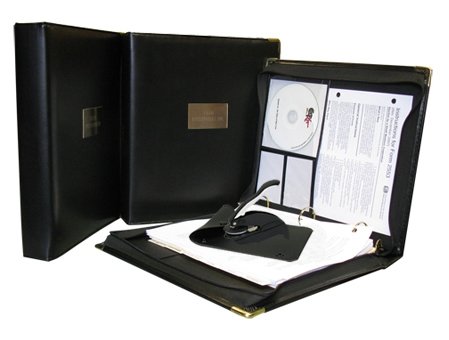 ExecuKit Corporate Kit the Entrepreneur's Kit this corporate kit features a zippered padded sewn case to ensure a safe place to keep all your documents. The Name of Incorporation is engraved on a brass plate affixed to the face of the binder.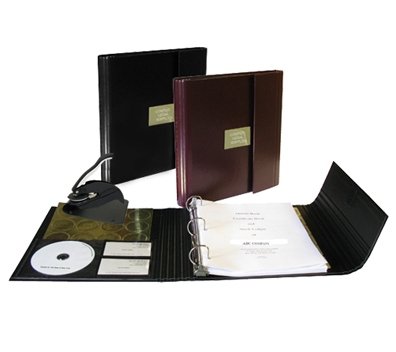 Folio Kit Corporate Kit - Eliminates the extras for a cost saving price. This new innovative product provides a unique European design that allows you to add pages without compromising the integrity.


Thrift Kit Hot Stamp Corporate Kit - his Vinyl 3 locking "D" ring Minute Book Binder with Matching Slipcase. Incorporation name will be hot stamped vertically on the spine. Inside cover has a pocket to hold additional important papers. Available in Burgundy or Black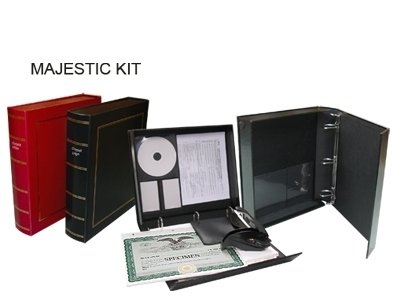 The Majestic Kit Corporate Kit eliminates the slipcase. A corporate kit designed as a self-contained unit with extra strength construction which provides a complete package to house all your pertinent business records.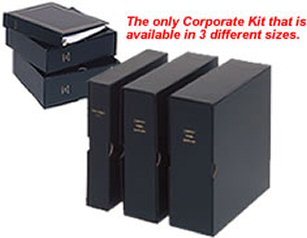 The Tri-Kit Line for Extra Capacity Binders 3". two tone color burgundy & green available for 2 " kits. for Extra Capacity corporate kits have a Specially Designed Inside cover pocket to hold additional important papers, 2 Business Cards & a CD. Included inside the Minute Book Binder is the Metal Embossing Seal.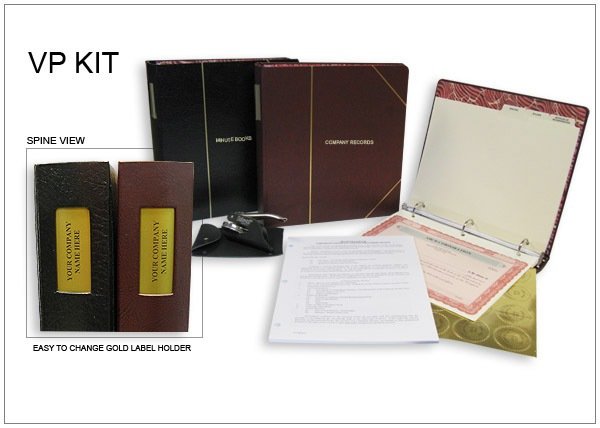 The VP Corporate Kit - now available in 2 colors, this 3 ring version is a Heavy Duty Corporate Kit is bound in Red or Black levant imitation leather. Also provided with your kit is a handy gold label with the name of the entity printed on it.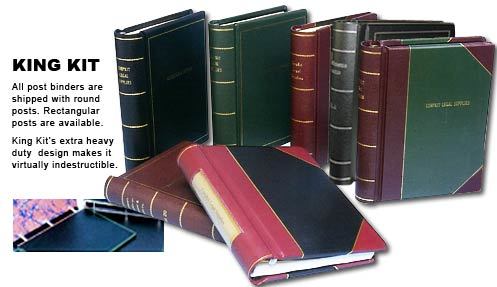 The King Kit Corporate Kit three Post Binder This extra heavy duty design makes it virtually indestructible. Triple post binding gives you extra security in your Corporate Kit...all

displayed in burgundy and black, with gold embossed accents.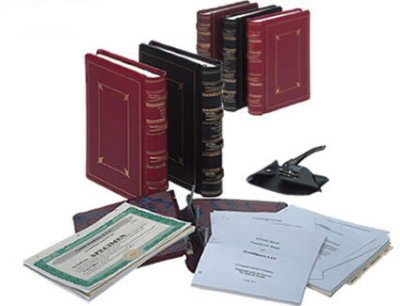 The Regal Leather Corporate Kit three Post Binder

Genuine Leather Corporate Kit can only be described as Impressive. This beautiful gold embossed rounded library spine,with old style classic "Hubs&quot.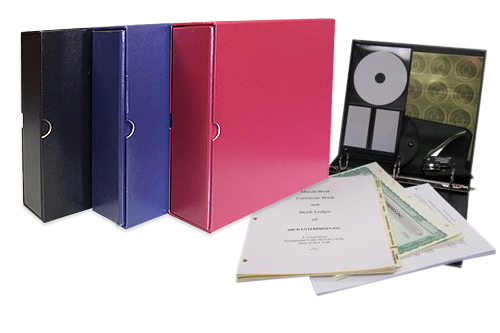 Corporate Kit Tri-Kit 2" Binder Kit This 2 inch (2") Capacity ring metal approximate 3 inch (3") spine. This kit with Specially Designed 3 locking "D" ring.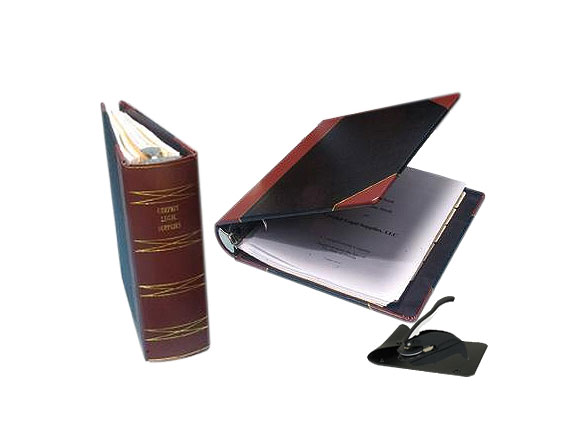 The 3 Ring 1/4 Bind Leather Corporate Kit A new addition to our Corpkit line, these impressive binders have genuine 1/4 bind leather spines and corners with gold accents, concealed metal hinges, extra heavy duty locking 3 ring metals with burgundy spines and black covers.

EACH CORPORATE KIT INCLUDES:
* 20 Customized Stock Certificates printed on high quality paper 24 lb thickness with watermark, Copy protected certs.
* Corporate Kit Customized Binder
* Stock Transfer Ledger
* Matching Slipcase to give a clean dust free look to your corporate kit(if applicable)
* Plain Minute Paper/Printed Minutes & Bylaws
* 1 5/8" Corporate Embossing Seal, Our seals are guaranteed for life
* Six Position Corporate Tabs
* Special Corporate Minutes & Bylaws Pre-Printed or on Disk available at Discounted Rate
* Restriction clause can be added to the front or back of the certificates, Additional cost may apply

| | |
| --- | --- |
| Click image to see detail. | 37 States Specific By-Laws and Operating Agreements available at Corpkit Legal Supplies. |
Corporate kit order forms are available for all types of incorporations. The following are links to our other corporate kit order forms.

Corporate Kits

---
| | | | |
| --- | --- | --- | --- |
| Result pages: | 1 | 2 | |
---

See details
Corporate Kit Majestic Kit for Single Class
SKU: Majestic-S

The Majestic Kit Corporate Kit eliminates the slipcase. A corporate kit designed as a self-contained unit with extra strength construction which provides a complete package to house all your pertinent business records. A ...


---

From: $83.00


See details
Corporate Kit Hot Stamp ThriftKit
SKU: ThriftHS-S

ThriftKit Corporate Kit - Our most popular Kit. This Corporate Kit has a Vinyl 3 locking "D" ring Minute Book Binder with Matching Slipcase. Incorporation name will be hot stamped vertically on the spine. Inside cover ha...


---

From: $61.00


See details
Corporate Kit ThriftKit
SKU: Thrift-S

ThriftKit Corporate Kit - Our most popular Kit. This Corporate Kit has a Vinyl 3 locking "D" ring Minute Book Binder with Matching Slipcase contains handy label holder on the spine contains a gold leaf insert with the Co...


---

From: $56.00


See details
Corporate Kit Royal Kit
SKU: Royal S

The Royal Corporate Kit - The Corporate Kit with Metal hinges for extra durability. this Rugged, Extra Strength Binder with Durable Metal Hinges, which will last a lifetime. The Name of the Entity is Hand Embossed...


---

From: $101.00


See details
Corporate Kit Execukit
SKU: ExecuKit S

ExecuKit Corporate Kit the Entrepreneur's Kit this corporate kit features a zippered padded sewn case to ensure a safe place to keep all your documents. The Name of Incorporation is engraved on a brass plate affixed to th...


---

From: $71.00


See details
Corporate Kit Folio Kit
SKU: Folio S

Folio Kit Corporate Kit - This new innovative product provides a unique European design that allows you to add pages without compromising the integrity of the binder. The inside cover has our exclusive pocket to hol...


---

From: $69.00


See details
Corporate Kit Tri-Kit 2" Binder Kit
SKU: Tri Kit 2 S

The Tri-Kit Line for Extra Capacity Binders 2" for Extra Capacity this 2" (2 inch ) capacity ring metal approximate 3" spine. corporate kits with Specially Designed 3 locking "D" ring. Included inside the Minute Book Binder is the Metal Embossing Seal...


---

From: $87.00


See details
Corporate Kit Tri-Kit 1 1/4" Binder Kit
SKU: Tri Kit S



Tri-Kit Corporate Kit 1¼" Binder -The only line of corporate kits available in 3 different sizes

these corporate kits have the added value of the 3 locking "D" ring, which holds your documents neat and flat which provides less wear and tear on th...


---

From: $69.00


See details
Corporate Kit VP Kit
SKU: VP S

The VP Corporate Kit - now available in 2 colors, this 3 ring version is a Heavy Duty Corporate Kit is bound in Red or Black levant imitation leather. Also provided with your kit is a handy gold label with the name of ...


---

From: $75.00

| | | | |
| --- | --- | --- | --- |
| Result pages: | 1 | 2 | |