CorpKit Legal Supplies :: Minute Book Binders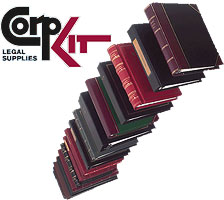 Custom Minute Book Binders - CorpKit is one of the largest suppliers Nationwide of Custom Minute Book Binders. Each custom binder includes the name of incorporation imprinted on the spine of binder. Our inhouse manufacturing facility is pleased to announce that we are now able to brand your binders for a nominal fee. Add you logo, business address, phone number for a nominal fee. Prices starting as low as $5.00 a kit.






*We also have an extensive selection of Index Tabs to help you further customize your binder. Tabs for Corporation, Parntership & Limited Liability. You can find these on page 2 of the products listed below.

PLease visit our DO-It-Yourself line Minute Book Binders, start from $6.95.



Minute Book Binders
---

See details
Minute Book Paper
SKU: MB-Paper

Byron Weston 32# minute book paper with rectangular or round holes.


---

Market price: $30.00
From: $24.00, save 20%


See details
ThriftKit Custom Minute Book Binder
SKU: TB

The ThriftKit Custom Minute Book Binder This Vinyl 3 locking "D" ring Minute Book Binder contains a handy label holder on the spine with a gold leaf insert with the Incorporation Name imprinted on it. Inside cover has a pocke...


---

From: $22.00


See details
Hot Stamp ThriftKit Custom Minute Book Binder
SKU: THS-M

The ThriftKit Custom Minute Book Binder Our most popular kit just got better. We added gold stamping, either side to side (horizontal) or up & down (vertical) on the spine.Same great contents as our thriftkit with the label ho...


---

From: $29.00


See details
CorpKit Custom Minute Book Binder
SKU: CB

The CorpKit Custom Minute Book Binder has the added value of the 3 locking "D" ring, which holds your documents neat and flat which provides less wear and tear on the paper, in addition to eliminating unsightly rivets o...


---

From: $36.00


See details
CorpKit 2" Custom Minute Book Binder
SKU: 2CB

The Tri-Kit Line for Extra Capacity Binders This 2" capacity ring metal approximate 3"(3 inch) spine. It has a Specially Designed Inside cover pocket to hold additional important papers, 2 Business Cards & a CD.


---

From: $52.00


See details
ExecuKit Custom Minute Book Binder
SKU: EB

ExecuKit Custom Minute Book Binder The Entrepreneur's ExecuKit Corporate Kit features a zippered padded sewn case to ensure a safe place to keep all your documents. The Name of Incorporation is engraved on a brass plate...


---

From: $36.00


See details
Folio Custom Minute Book Binder
SKU: FB

Folio Custom Minute Book Binder This new innovative product provides a unique European design that allows you to add pages without compromising the integrity of the binder. The inside cover has our exclusive poc...


---

From: $46.00


See details
Majestic Custom Minute Book Binder
SKU: MB

The Majestic Custom Minute Book Binder eliminates the slipcase. Designed as a self-contained unit with extra strength construction which provides a complete package to house all your pertinent business records. A 1 1/4" ...


---

From: $56.00