CorpKit Legal Supplies :: Electronic Products

Digital products from Corpkit Legal Supplies

Corpkit, has always stayed on the for-front of our industry. From Stocktracer, our corporate manager program to our new E-Corpkit, corporate kits in an hour (estimated average turnaround time) by e-mail, we give you the ability to maximize your time and costs.

To print the E-Certificate, you will need a color printer to get the full affect. For longevity we recommend using a color laser printer.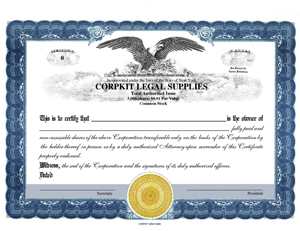 Disclaimer: The 2 hours processing time is limited to the Basic E-Corpkit and only during normal work hours: Monday - Friday: 9:00 AM to 5:00 PM EST. (Except closed holidays)

If the order is placed after 5:00PM, it will be processed next business day.

The following are our digital products:
▪E-CORPKIT™ Corporate kits, LLC kit, Nonprofit kit
▪Electronic digital certificates (E-Certificates)
▪ Electronic Digital Seal(E-Seals)
▪E-Bylaws and E-Operating Agreement
▪ Company name file to insert in your own binder
▪ Ability to issue the certificate to the investors
▪ Add the Gold "3D seal to the certificate
▪ Add electronic signatures to the certificate


| | | |
| --- | --- | --- |
| | Gold Seal | Signature on the certificate |