CorpKit Legal Supplies :: Do-It-Yourself Products

The Do-it-Yourself Line - This cost effective product allows you to customize items at need. There are a large variety of products available such as stock certificates, four different styles of binders, tabs and more.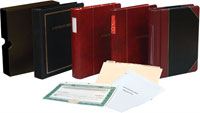 The Corporate Combo - with four different styles to choose from. This pack includes certificates, tabs, stock transfer ledgers/membership roll, binders and slip cases ready to customize at a moments notice.
Prices As low as $18.95 per combo

Stock Certificates - Choose from Standard Wording or Completely Blank Stock Certificates. CorpKit has an extensive variety of colors and styles to choose from. Don't forget to add our free CD Software to customize your certicates.
Prices Starting at $39.95 per book of 100

Minute Book Binders - With four different Styles to choose from CorpKit can give you the variety you are looking for. Each binder has a handy label holder to customize your minute book binder at a moments notice.
Prices As low as $8.95 per binder



Related Products - To make sure you have your off the shelf needs complete CorpKit Legal Supplies offers a variety of related products. Separation Tabs, Stock Transfer Ledgers, Minutes & Bylaws or Operating Agreements, Software for issuing Certificates, Gold Paper & Gold Notarial Seals look for the volume discounts!




Do-It-Yourself Products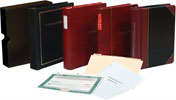 ---
---

See details
Draw-Case Slip Case
SKU: DrawC

NEW form Corpkit, the new "Draw-case". New extra long slipcase that gives you a separate drawer to hold your corporate seal, thereby freeing up room in the binder.


---

From: $14.95